Ariana Grande and Jim Carrey shared a touching moment on social media.
On Saturday on Instagram Story, the No Tears Left To Cry singer posted a series of black-and-white photos of the actor, who she referred to as the "LOML" ("love of [her] life").
In addition to admitting that her "first AIM username was jimcarreyfan42 when [she] was in like 4th grade," the musician shared a quote credited to the Ace Ventura: Pet Detective star about depression.
*****************************************************
*****************************************************
It read:
"Depression is your body saying, 'I don't want to be this character anymore. I don't want to hold up this avatar that you've created in the world. It's too much for me.' You should think of the word 'depressed' as 'deep rest.' Your body needs to be depressed. It needs deep rest from the character you've been trying to play.'"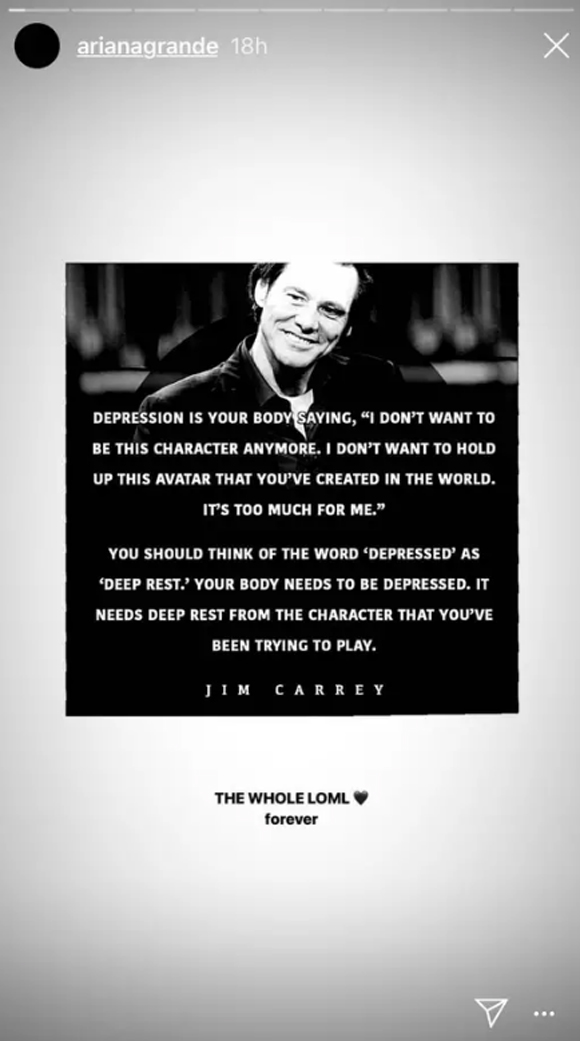 On Easter Sunday, the 57-year-old praised the 25-year-old for her "lovely mention," and shared a quote from teacher/friend, Jeff Foster, about how the word "depression" should really be interpreted as "deep rest."
He wrote:
"@ArianaGrande I read your lovely mention of me and things I've said about depression. A brilliant teacher and friend, Jeff Foster was OG on the 'Deep Rest' concept. I admire your openness. I wish you freedom and peace. I feel blessed to have such a gifted admirer. Happy Easter!'"
As seen here: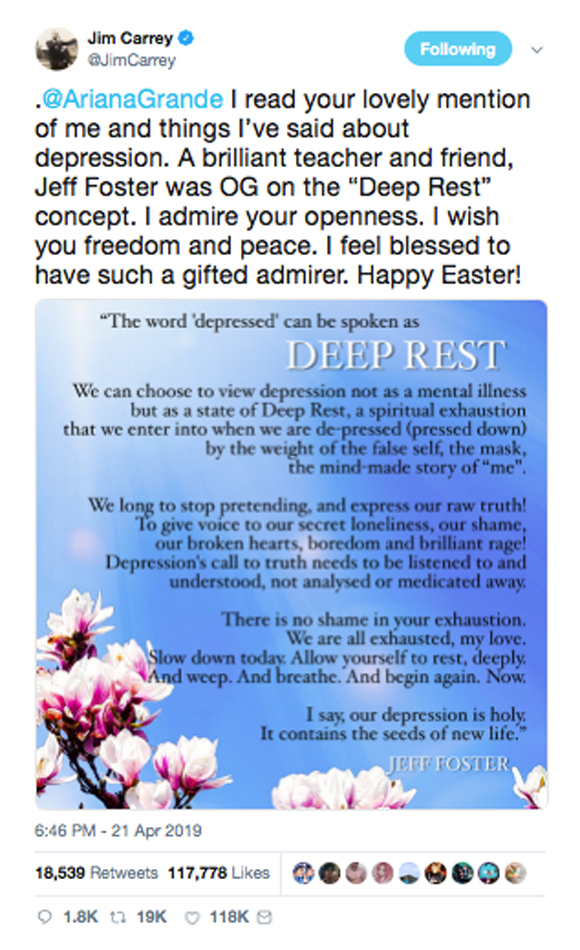 On Monday, after she got a hold of Carrey's message, Miz Grande totally fangirled over the fact that her "inspiration" wrote back.
She even joked (we think) that she was going to "tattoo [Carrey's] tweet to [her] forehead."
The songstress exclaimed:
*****************************************************
*****************************************************
"i can't process this or breathe hold on… thank u so much for your kindness. i don't think u understand how much i adore u or what u mean to me. thank u for taking the time to share this w me. you are such an inspiration. i can't wait to tattoo this tweet to my forehead. sending you lots of love & all things happy… jimcarreyfan42 is a very grateful girl rn"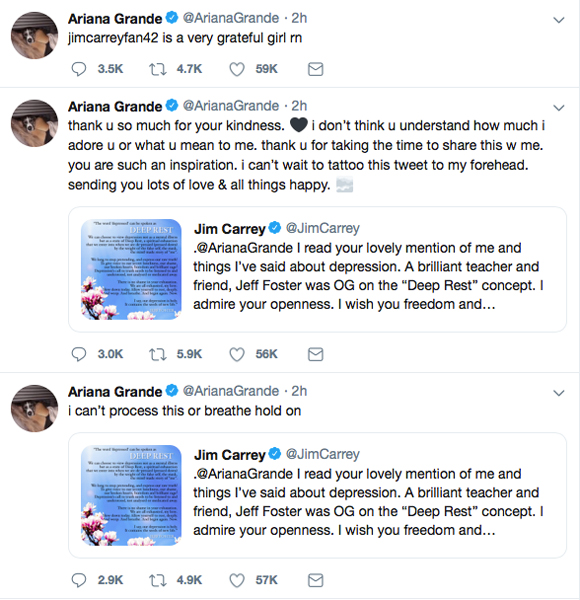 As we reported last week, when a fan asked if touring is good for her health, Ariana reportedly said she doesn't think it is. She supposedly wrote (and deleted):
"i don't think it is. honestly. it's been v hard. i have sm on my mind and it's so heavy and no energy to process or work thru any of it but i'm trying hard. and i have the twins. and seeing u all is so nice. but it's hard emotionally. i wish it were a year ago. i'd give anything."
However, after another admirer said "we wouldn't be mad if [Ariana] cancelled [her tour]," she reportedly wrote that she "won't do that," explaining:
"i would. i won't do that. i just am sharing. it's hard and i'm trying and my soul is confused and tired and i love u."
Grande also reportedly wrote that "having a routine is good for ptsd."
Speaking of which, the starlet revealed the "terrifying" levels of PTSD she had after getting a brain scan.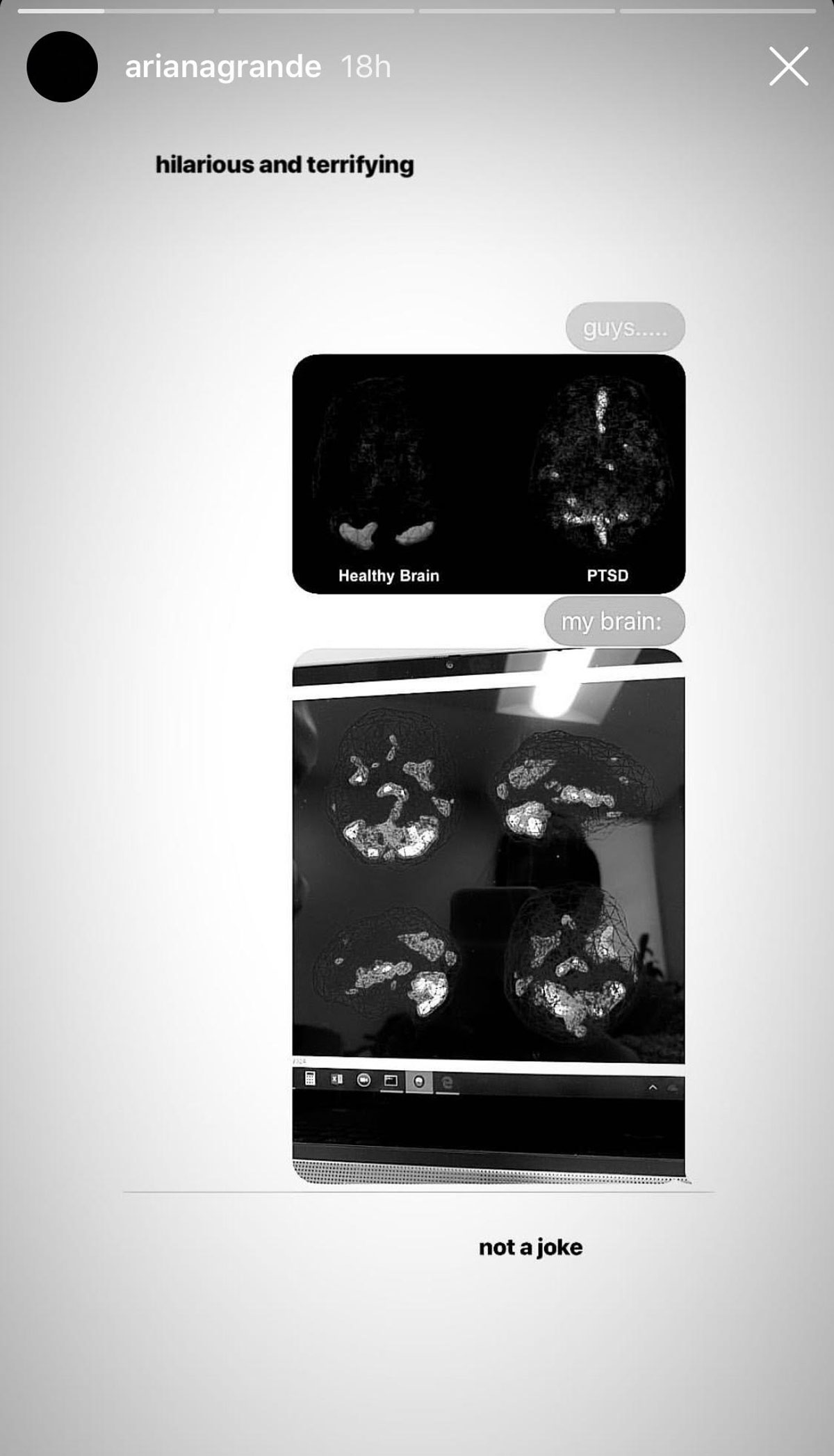 However, Ariana later clarified that she "didn't mean to startle anyone"; she simply wanted to encourage fans to "listen to your bodies," and to "take care of yourselves.":
"didn't mean to startle anyone with my brain thingy. it just blew me away. i found it informative and interesting and wanted to encourage y'all to make sure you check on your brains/listen to your bodies/take care of yourselves too. i love science and seeing the physical reality of what's going on in there was incredible to me. i mean i feel it all the time, but seeing it is totally different and super cool. someday, when i'm feeling ready or when i'm more healed up, we can talk more about it. i am constantly working on my health/learning how to process pain (aren't we all). everyday is different but i'm doing my best. jus know i will continue showing up and giving as much of my energy as i can and do my best even tho my brain looks like the world map. (that's why her hairs so big it's full of trauma… k ariana, log off) love u."
[Image via Brian To/Nicky Nelson/WENN.]
Original Article : HERE ; This post was curated & posted using : RealSpecific
*****************************************************
*****************************************************
This post was curated & Posted using : RealSpecific
Thank you for taking the time to read our article.

If you enjoyed our content, we'd really appreciate some "love" with a share or two.

And ... Don't forget to have fun!