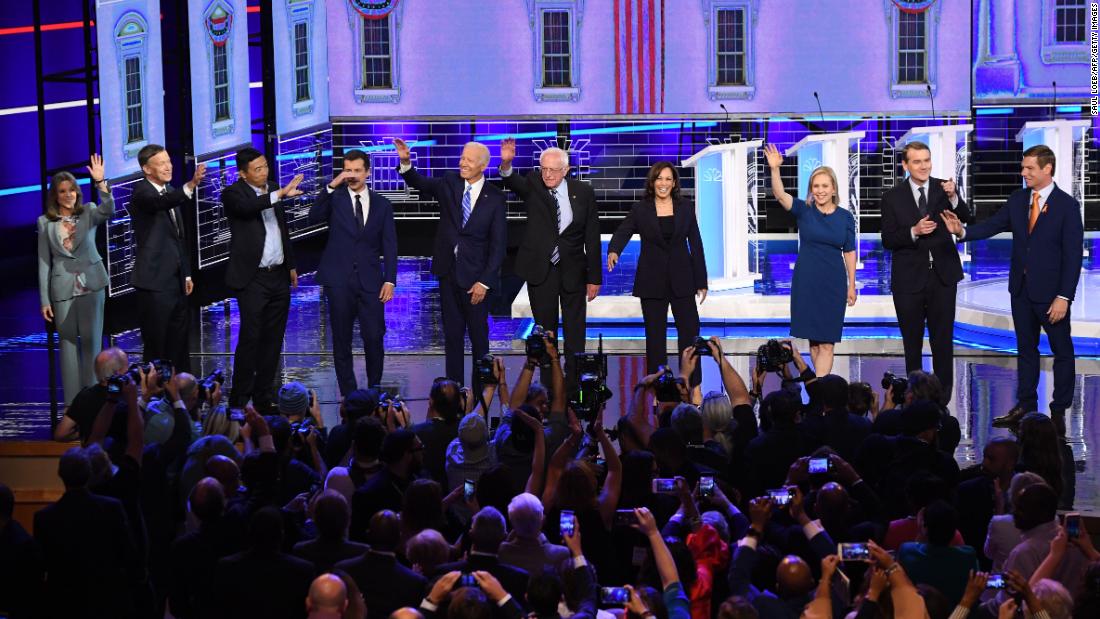 (CNN)The second night of the first 2020 Democratic presidential debate continued with 10 candidates, including three of the top polling leaders in former Vice President Joe Biden, Sen. Bernie Sanders of Vermont and Sen. Kamala Harris of California.
The candidates tackled health care, immigration, race issues, taxes and the economy.
Iraq War troop withdrawal
Former Vice President Joe Biden, asked about his vote for the Iraq War and his judgment on taking the US to war, touted the withdrawal of US troops from Iraq in 2011.
"Once (President George W. Bush) abused that power, what happened was we got elected after that … I made sure … (President Barack Obama) turned to me and said: 'Joe get our combat troops out of Iraq.' I was responsible for getting 150,000 combat troops out of Iraq, and my son was one of them."
Biden voted to authorize military intervention in Iraq in 2002 and later became a critic of the Bush administration's handling of the war. His son, Beau, also deployed to Iraq for a year in 2008, serving in an administrative post with the 261st Signal Brigade.
Vermont Sen. Bernie Sanders hammered home a familiar theme for him, saying that the middle class is stagnating, while the richest Americans are adding to their wealth.
"In the last 30 years, the top 1% has seen a $21 trillion increase in their wealth," he said.
South Bend Mayor Pete Buttigieg said that China is investing massively in artificial intelligence.
"China is investing so they could soon be able to run circles around us in artificial intelligence, and this president is fixated on the China relationship as if all that mattered was the export balance on dishwashers."
Former Vice President Joe Biden and California Sen. Kamala Harris had a tense exchange over Biden's past praise of some senators who supported segregation and his opposition to busing.
"It was hurtful to hear you talk about the reputations of two United States senators who built their reputations and career on the segregation of race in this country. It was not only that, but you also worked with them to oppose busing," Harris said.
Biden responded, "I do not praise racists. That is not true."
Biden's campaign was riled last week when he cited two segregationist senators and as examples of colleagues he could work with during an era where "at least there was some civility" in the Senate. Biden did not praise either of the men, but he does have a history of praising several senators who supported segregation and opposed the Civil Rights Act — though not for their positions opposing civil rights.
Vermont Sen. Bernie Sanders said in 1988 he supported an assault-style weapon ban and lost.
"In 1988 when it wasn't popular, I ran on a platform of banning and in fact lost that race for Congress," Sanders said.
According to the Burlington Free Press and The Washington Post, Sanders did support an assault-style weapon ban during his first run for the House of Representatives, though it's unclear how much it contributed to his defeat.
Sen. Kamala Harris and former Vice President Joe Biden had a testy exchange on race and school busing. It began with Harris referencing Biden's recent comments about working with segregationist senators, and ended with her personal story of benefiting from busing, a policy she criticized Biden for opposing.
"And it was not only that, but you also worked with them to oppose busing. And there was a little girl in California who was part of the second class to integrate her public schools and she was bused to school every day. And that little girl was me."
Biden shot back claiming Harris' comments were "a mischaracterization of my position across the board." Biden said he opposed busing mandated by the Department of Education but that he would have allowed localities to bus students should they choose to do so.
Biden says he would allow busing under certain circumstances. In cases where a school system has been racially segregated by gerrymandering district lines or by other legalistic means, Biden said he supported desegregation by any legal means at hand — including busing.
However, neither piece of legislation would have explicitly prohibited Berkeley, where Harris went to school, from choosing to bus black students into majority white schools or vice versa. Berkeley was one of the first cities to adopt a busing program in 1968.
Biden said he supported school integration by other means but opposed busing because he thought it had a negative impact on communities.
Sen. Kamala Harris said that she told local sheriffs in California when she was the state's attorney general that they could buck certain requests to detain undocumented immigrants made by federal immigration officials — a progressive policy that is still fought for today by immigration activists.
Former Colorado Governor John Hickenlooper criticized a liberal policy proposal, saying "if you look at the Green New Deal, which I admire the sense of urgency and how important it is to do climate change, I'm a scientist, but we can't promise every American a government job."
The Green New Deal is a proposed bill that is more a list of ideas than a hyper-detailed proposal. This 14-page piece of legislation touches on a wide range of topics including cutting carbon emissions and switching power generation to 100% renewables. It also does promise everyone in the US a job, but it does not specify that it would be with the government.
Colorado Sen. Michael Bennet claimed that 160,000 families that make up the top 0.1% have the same wealth as the bottom 90%.
There are several ways to measure wealth in America, and none of them are perfect. However according to at least one analysis from economists, this statistic is true.
In the letter, they wrote that the 0.1 percent own about 20% of the nation's wealth. The bottom 90% own about 25%.
South Bend Mayor Pete Buttigieg claimed that because of President Donald Trump's tariffs on China, "Americans are going to pay on average $800 more a year."
New York Sen. Kirsten Gillibrand claimed that seven migrant children have died in US custody during the Trump administration.
"He's torn apart the moral fabric of who we are, when he started separating children at the border with their parents, the fact that seven children have died in his custody," Gillibrand said.
South Bend Mayor Pete Buttigieg said, "There are undocumented immigrants in my community who pay sales taxes and pay property taxes directly or indirectly."
Undocumented immigrants pay billions in taxes each year, even though they do not have Social Security numbers. They file using what's known as an Individual Taxpayer Identification Number.
In 2015, according to the IRS, 4.35 million tax returns were filed using ITINs, accounting for more than $13.6 billion in ta
xes.
In arguing for a candidate from a new generation to be the Democratic nominee, California Rep. Eric Swalwell quoted then-Sen. Joe Biden speaking in 1987 at the California Democratic convention.
Former Vice President Joe Biden said, "(Undocumented immigrants) in fact contribute to the well-being of the country, but they also for example increase the lifespan of social security. Because they have a job, they're paying a social security tax. That's what they're doing. It's increased the lifespan."
Andrew Yang claimed that Amazon pays "literally zero in taxes." "Oh, so, it's difficult to do if you have companies like Amazon, trillion-dollar tech companies paying literally zero in taxes while they're closing 30% of our stores."
"From 2012 through 2018, Amazon reported $25.4 billion in pretax US income and current federal tax provisions totaling $1.9 billion," the Journal reported. "That is an 8% tax rate — low, but not zero or negative. Looking back further, since 2002, Amazon has earned $27.7 billion in global pretax profits and paid $3.6 billion in global cash income taxes, a 13% tax rate."
Analysts say Amazon was able to whittle down its tax liability by taking advantage of tax credits and deductions.
Bernie Sanders claimed "83% of your tax benefits go to the 1%."
Some estimates say that if certain tax cuts are not reapproved by Congress after they sunset in 2027, 83% of the benefits would go to the top 1%.
California Sen. Kamala Harris claimed that the tax bill signed by President Donald Trump benefits major corporations and will contribute at least $1 trillion to the US debt.
Sen. Bernie Sanders blasted the rich for taking advantage of America, saying that three people own more wealth than the bottom half of the nation.
The institute used data from the 2017 Forbes 400 list and the Federal Reserve's 2016 Survey of Consumer Finances.
In calling for change, Bernie Sanders said, "500,000 people are sleeping out on the streets today."
Original Article : HERE ; This post was curated & posted using : RealSpecific
*****************************************************
*****************************************************
This post was curated & Posted using : RealSpecific
Thank you for taking the time to read our article.

If you enjoyed our content, we'd really appreciate some "love" with a share or two.

And ... Don't forget to have fun!